This year's Animation Show was in Atlanta at the Carter Center on Friday and Saturday February 2nd and 3rd. The Show is the brainchild of Mike Judge (of Beavis and Butthead fame) and Don Hertzfeldt.

A group of us from the Studios hit the Friday night showing at 9pm. I wasn't originally keen on attending since I thought last year's show was a bit underwhelming, but Mike Judge was in attendance this time around and was doing a Q&A afterwards, so I went along.

I must say that I really enjoyed this year's show. It was a solid offering of entertaining animation. A few of my favorites: "Dreams and Desires" Directed by Joanna Quinn, "9" Directed by Shane Acker, "Game Over" Directed by Pes, and "Rabbit" Directed by Run Wrake.

So after the show and before Mike Judge's Q&A, they had a quick trivia contest to give away a couple of Animation Show Box Set DVDs. The final question was prefaced with "Now here's a question that no one in any previous city that we have been to has gotten correct". Hmmmm, must be hard. So the question is "In Animation Show 1, we showed a clip from the Disney Short "Mars and Beyond". Who created this short?" which of course I knew the answer was Ward Kimball, even without ever having seen Animation Show 1! So I shout out the answer, but was a split second too late as I hear "WA..." just as I shouted the same! It turned out that the guy who beat me too the punch was my fellow animator Mike who I work with at Turner, so I wasn't too upset. But, the MC was so flabbergasted that TWO people knew the answer, he hooked me up with a poster! Sweet!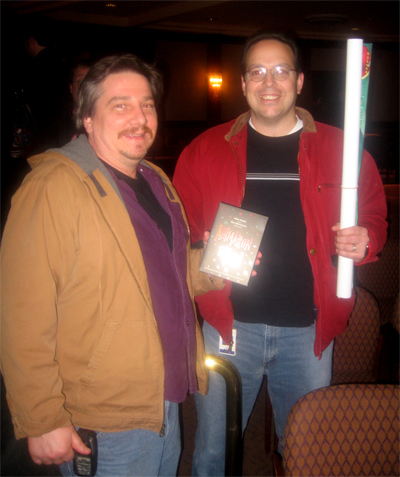 Mikey with his DVD and me with my poster! Thanks to Darrell for the photo!

Then Mike Judge came out for a short Q&A, some photos and autographs. It was a really great evening.

Today, I decided to check the Animation Show website to see just which cities they had been to previously and to marvel at them for not knowing this answer. And here they are:

Santa Barbera, CA, Seattle, WA, Boston, MA, Portland, OR, Tucson, AZ, New Brunswick, NJ, New York, NY, San Francisco, CA, San Jose, CA, Berkeley, CA, Hartford, CT and Washington, DC.

For shame!