Here's my big report about our costuming experience at MNSSHP 2007!

Sunday the 14th was our first night in costume. We ended up being very late after a mix up with our lunch dining reservation and we did not arrive at the Party until about 10:30pm. We made a mad dash towards the Mansion and got stuck on the wrong side of the Boo To You Parade in Liberty Square. We sure took some folk's attention away from the parade! We actually got there right when the Haunted Mansion float was passing. After the float passed, we went on to the Mansion and our first ride. It was pretty empty so we asked the Foyer CM if we could wait for the next Stretch Room. He agreed and left us alone to surprise his counterpart CM working the other room. She was quite surprised to find us waiting in the Foyer after resetting her Stretch Room!




We had fun talking with her, and also the other CMs in the Load Area. They took some photos of us with their own cameras, and then we got on the ride. Afterward, a Mansion CM set us up in front of the Mansion and took some photos of us. This is when other party guests started to want pictures with us, and another CM came by and told us we couldn't take photos here. He also was extremely nice about it and took us into the backstage "Servant's Quarters" door and took us right into the Stretch Room to have another ride. We then wandered around Liberty Square until just before Midnight when we returned to the Mansion for our traditional midnight last ride of the evening. We then spent some time outside the Mansion taking separate photos of ourselves with the Mansion gate plaque. Here's me!




Now well after midnight and our slow walk back towards Main Street is when things started to happen for us. Main Street is basically devoid of guests and just the Photopass folks and Cleaning CMs are around. Well, they all immediately stop us in our tracks and insist they take our photo, and insist they jump into some photos themselves!




We had some Photopass pictures taken and the CM in yellow wrote us a slip and said we could get 4 free 8x10s of these photos! So, we head on down to Exposition Hall to get our prints, and the CMs working in here all start to go nuts! So much so that the Manager CM in here insists we have professional studio shots taken in one of their on-site studios! Check out some of this action!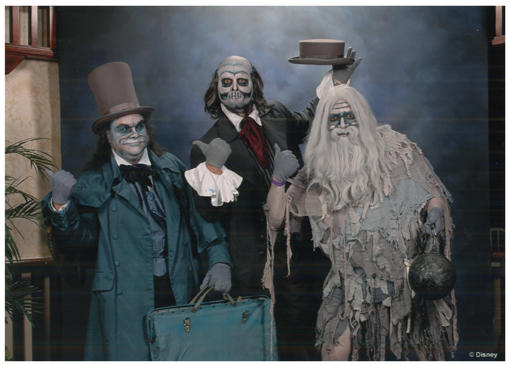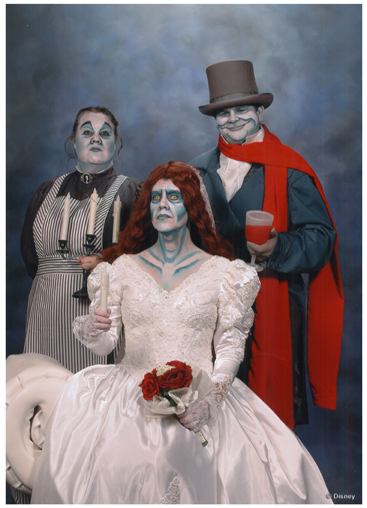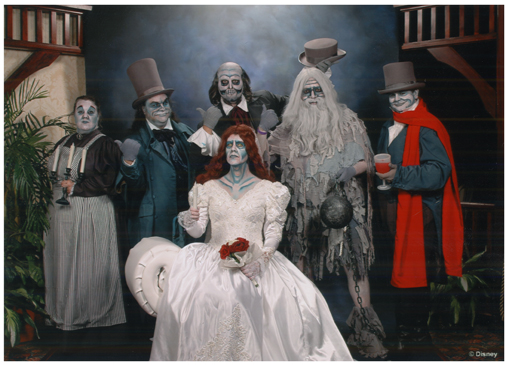 Once again we were given free 5x7s of these shots and we were on our way. One last fun moment happened on our way to the buses. A CM named Steve stops us at the turnstiles and recognized us from last year! It turned out he was our bus driver and drove us in costume from our resort to the Party last year! He radioed and requested a bus for the Bride and the Hitchhiking Ghosts. We had our own bus back to our resort.




After realizing how much time we needed to get in costume and makeup on Sunday, we made sure we got an early start on Thursday. We made it to the bus stop at our resort at around 8pm, and for the first time we were seen by a whole lotta folks at the stop and on the bus. We made quite scene. We were through the turnstiles at 8:30pm and decided to head to Tommorowland. This would be the first time we had ventured to any other area of the Magic Kingdom in costume.




We stopped on the bridge to Tommorowland to take a photo with the Castle and were overrun by other park guests wanting our picture and to get pictures with us. We were honestly stuck there for a good 10 minutes! Then a Dream Squad CM came over basically to see what was happening. I told her we were trying to get to the Peoplemover. She laughed, and then escorted us to the TTA. She asked us where we were from, basic chit-chat during the walk and we said thanks, got on the ride and didn't think much more of it.




We finish the ride and head back down the ramp and there is our Dream Squad CM waiting there for us with a big bag of Halloween candy! She gives us the candy and asks us if we were fans of Space Mountain. We all were of course and she said she wanted to give us a Magic Moment and take us all on a backstage tour of the Space Mountain control tower and then go for a ride! Well, we all took the tour, but our costumes would only allow 2 of us to ride, Pickwick and Prudence. It was awesome, and I wish I talked with Prudence before writing this since she knows our Dream Squad CM's name, while I forget :(.




We then headed on to Fantasyland for a ride on Small World. We were surprised and stopped by a Haunted Mansion CM on her off night there with her family who saw us on Sunday. We talked with her for a bit, then more pictures with guests and we finally got to Small World for a ride.




Then it was off to the Mansion for our first ride of the night. The only disappointing thing about our Mansion rides in costume this year was none of the Mansion CMs we met and became friends with last year were working the parties we went to. But we met some really great new friends this year.




Then it was off to ride Pirates.




On our way back to Liberty Square for our traditional Midnight last ride of the night at the Mansion, we ran into Jesse and Bullseye in Frontierland, and an awesome CM who was playing a creepy Night Watchman near the Riverboat. We also got his contact info and made another new friend this night.




So we once again finished our night as the final riders of the day on the Haunted Mansion. The night was over except for our slow walk back to the main gate. We stopped for many photos, including this one in front of the Hall Of Presidents. This is the best photo we got of our Bride's beating red heart (She had beating heart sound, too!).




And that's about it for our MNSSHP adventures for 2007!




Hope to see you all next year!

Oh... and here we are in our secret identities!




(L-R, Ezra, Phineas, Gus (me), Bride, Pickwick. Prudence is taking the photo!)
Read More... After the Jump!